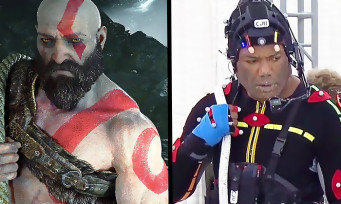 Remember, when announcing
God of War Ragnarök in September 2020, a release window had been communicated: 2021. However, since then, a lot of things have taken place and Sony Interactive Entertainment has stopped communicating on the release date of the game. that last June that we had the official information that the game would not arrive before 2022, both on PS5 and PS4, confirming the rumors of a cross-gen release. If Sony has never explained this schedule delay, a certain Christopher Judge has decided to come out of his silence. The actor who plays Kratos on the screen since the reboot episode of 2018 has split several tweets (unfortunately not in thread) to explain that he is the one and only at fault for this report. He reveals to us that he underwent numerous operations in the summer of 2019: back and knee surgery and replacement of both parts of his hip, Christopher Judge has come a long way. These surgical procedures required significant rehabilitation and this is the reason why he was not able to complete all of his filming sessions.
I feel good now. I need to be transparent. This was not approved by anyone. To the attention of the beloved community, Ragnarok has been delayed because of me. In August 2019, I could no longer walk. I had to have back surgery, both hips were replaced, and jke had knee surgery. They waited for me to do my rehabilitation …

And Sony Santa Monica never said a word about the delay, and who was responsible for it. The studios are assholes, but this company should give us hope. What they have done for the team is much more …
The 57-year-old actor puts his words with great sincerity and therefore explains that he appreciates that neither Santa Monica Studios nor Sony Interactive Entertainment has disclosed his hospitalization to justify the delay. Christopher Judge goes even further and admits to having wanted to resign from his role of Kratos when he learned that Cory Barlog would no longer be the game director of this sequel:
One last thing. Barlog told me at the Tribeca Festival that he wouldn't be directing the sequel. I quit (it's not a joke). He said to me, do you trust me? (Yes). He told me Eric was a monster. I said he had better be … UPDATE: ERIC WILLIAMS is a fucking bully !!!
Now restored, the actor who became known for his role as Teal'c in the Stargate SG-1 series also shares his happiness in working with such caring and talented people, and obviously contributes to the fact that God of War Ragnarök is one of the most anticipated games of 2022. Patience, patience …