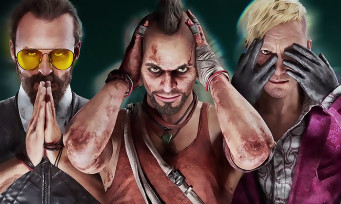 Although Far Cry 6 doesn't hit stores until October 7, Ubisoft has already scheduled all of the content that will arrive post-launch. A tradition in video games now, the goal of which is to make a game last over time by enriching regular new features. We learn here that three DLCs will arrive in the months following the game's release, until March 2022. Of course, it will be possible to purchase each DLC individually, but Ubisoft insists that taking the Season Pass is much more interesting. Something we already knew with these DLC is the possibility of playing the three most iconic villains of the saga, namely Vaas Montenegro, Pagan Min and Joseph Seed. History to make the player want to find these three villains, Ubisoft specifies that each of them will all be interpreted by the actors of the original cast of the games.
The idea in controlling these three bad guys is to offer a new gaming experience, close to roguelite, with this notion of die & retry. To do this, the player will only have a single gun to defend himself and will have to browse the map to find a more powerful arsenal. The developers specify that even if it is additional content, it will be an opportunity to discover more about the history and past of Vaas Montenegro, Pagan Min and Joseph Seed, with the inner demons and motivations of each of these iconic antagonists.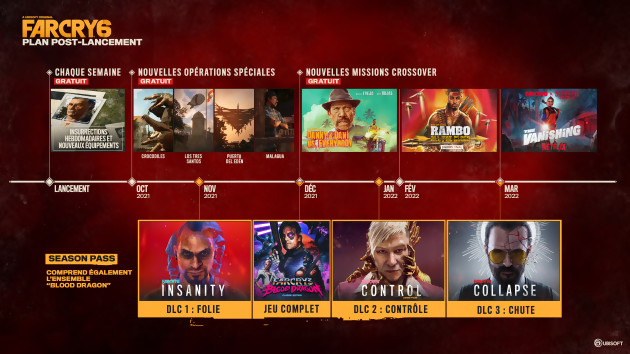 But that's not all, Ubisoft let us know that special operations (six in total) will fuel our crazy evenings (or days if you are not working), knowing that each operation will take place in specific areas of the open. world. Players will need to steal highly unstable chemical weapons from Antón Castillo's arms dealers and get to the extraction point before they overheat. The first two locations, Mesozoico and Maceo, will be available at game launch and the other 4 maps will be available later. History to give interest to these missions, three of them will have guest-stars such as Danny Trejo, Rambo and Stranger Things.
Finally, be aware that Far Cry 6 Season Pass will be included in the Gold, Ultimate and Collector's Editions of Far Cry 6 and can be purchased separately for € 39.99.
DLC 1: "Madness", available in November 2021
DLC 2: "Control", available in January 2022
DLC: "Chute", available in March 2022
PC players with the Season Pass will receive the original game released in 2013, while console and Stadia players will receive the Classic Edition of Far Cry 3: Blood Dragon.
The "Blood Dragon" set: will include 7 items usable in the main campaign of Far Cry 6:
Outfit: Blood Dragon gear
Two weapons: AJM9 and Kobracon
A vehicle: the Omega Enforcer
A weapon pendant: the KillStar
Un Fang for Hire: K-9000
A Chibi vehicle: the Blood Dragon Chibi