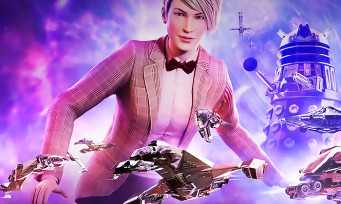 Since Fortnite opened the door to large-scale pop culture crossovers, many publishers have wanted to copy the magic formula. We obviously think of Activision, which is also multiplying improbable collaborations (Attack on Titans, Godzilla vs. King Kong), and others will follow suit. On the side of the CCP publisher, we are also looking for ways to renew ourselves and to offer things that are out of the ordinary. In January 2022, the studio in charge of developing EVE Online announced the arrival of Dr Who in the game through a dedicated event. The community was somewhat divided, with some believing their game was dressing up to attract more people, while others welcomed the initiative. During EVE Fanfest 2022 which took place last weekend in Iceland, CCP confirmed that other crossovers were being considered and
it is with IGN France
that Hilmar Veigar Petursson, the CEO, had to say about it:
Some players loved it, especially the scarf. A lot of people like the scarf and others found it uncomfortable because it doesn't fit the license," says Hilmar Veigar Petursson when mentioning that part of the community seems to have liked it while another doesn't. didn't even really care about the project.

I think we learned a lot from that and we will probably do more. We may do it differently depending on the feedback, but I personally think what we did was very good […] I'm more on the side of those who liked it, although it was a bit uncomfortable to see another license within EVE; I know that where there is discomfort, there is innovation. So don't be afraid to disturb a little. We hope to continue to do so.
Aware that his community is ultra-demanding, Hilmar Veigar Petursson knows that he is walking on eggshells when it comes to these collaborations which may seem off-topic at first. For the moment, nothing has been leaked about the next collaborations, but probably the name of the Warhammer 40,000 license is circulating here and there… Any good news?