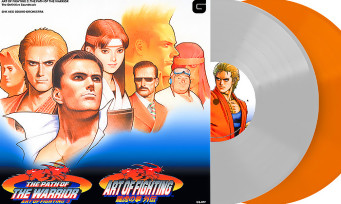 Just for Games is increasing the number of partnerships to offer us more and more soundtracks in vinyl format. After Tekken 4 and Tekken Tag Tournament 2, here we learn the arrival of the soundtrack of Art of Fighting 3 on LP record. Great news for fans of SNK, the Neo Geo and the Art of Fighting series of course. This is all the more true as Art of Fighting 3 had marked its time with its soundtrack which mixed references to jazz, with a lot of brass. As a result, the set will be offered in a deluxe Gatefold pouch with an incredible retro effect. The two colored vinyl records display a premium quality of 180g, the first being silver in color, the second displaying a pretty, rather soft orange. All the songs have been remastered by the SNK NEO SOUND ORCHESTRA.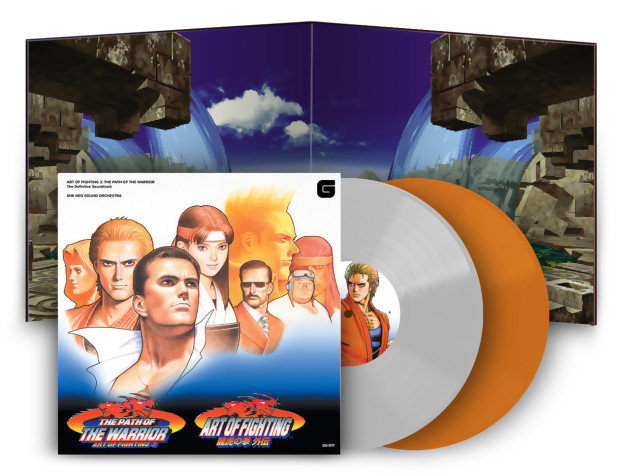 TRACKLIST
Disc 1
In front of
A1 BACK FIGHT AGAIN (THEME Of Art Of Fighting)
A2 PLAYER SELECT
A3 HERE COMES A NEW CHALLENGER
A4 START DEMO (1day-8day)
A5 GET HIGH PRELUDE
A6 GET HIGH (Theme Of RYO)
A7 GET HIGH [RARE GROOVE Mix]A8 GET HIGH [B-Mix]A9 GET HIGH [GOA TRANCE]A10 ULTIMATE KO
A11 CLEAR
A12 TRAVELER
Face B
B1 MOJO PRELUDE
B2 MOJO (Theme Of ROBERT)
B3 MOJO [MOJO BOOGIE]B4 MOJO [MOJO RAMBLE]
Disc 2
Face C
C1 STONE IN SANTANA (A Bass GROOVER)
C2 CIHCO DE MAYO
Face D
D1 MUZIKA JUNGLE PRELUDE
D2 MUZIKA JUNGLE (THEME Of ??) [Edition1]D3 MUZIKA JUNGLE (THEME Of ??) [Edition2]D4 RELEASE HALLUCINATION [PiANO VER.]D5 LIBERATION HALLUCINATION (THEME Of FREIA)
D6 CON-TIN-UE
D7 GAME OVER OVER OVER
Art of Fighting 3 Path of the Warrior (The Definitive Sountrack) will be available on June 4, 2021.