It's now been five years since the sympathetic Satellite Reigns, a tactical game with a dark and futuristic universe, left the corridors of 5 Lives Studios: since all this time, the small Australian firm has been working on the preparation of its next project with fervor and thoroughness… this time in a very different style. Windbound is indeed a pure game of survival and exploration, drawing briskly from the big standards of the genre with strong inspirations such as The Legend of Zelda: it did not take more to pique our curiosity, the title having already been exposed through rather enticing colored trailers. Comfortably installed from our home, post-confinement period requires, Deep Silver invited us to take the game in hand for an hour thanks to the wonderful technology of cloud gaming: is Windbound as refreshing as hoped?
The goal of Windbound is quite mysterious: we slip into the shoes of Kara, a heroine waking up on a desert island, having to explore the surroundings in search of the why and the how. This is also the starting point of our demo, the very beginning of Chapter 1 and, therefore, the beginning of the adventure: with nothing in our pockets, we then begin to explore this tiny piece of beautiful land. middle of the ocean, looking for some motivation. Very quickly, after some basic resources accumulated, the concept of the title is obvious (actually, we were already aware): this is pure and hard survival. Kara has a life bar and stamina, is hungry, gets tired and many craft mechanics are available to build vital tools. One thing leading to another, we therefore collect grass, stones and wood to make our first raft; then at the top of a rock, we find a visibly ancestral paddle that will allow us to navigate the waters. Quietly but surely, we will therefore move between two waves to the next islet to repeat the operation and see the mystical side of this lost area, where there are rather sketchy ruins and probably magical items.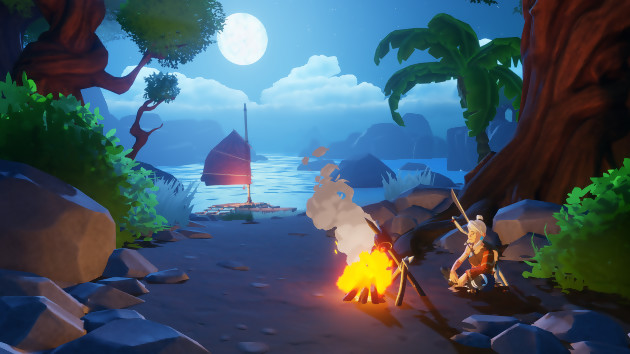 GONE WITH THE WIND
This is also the great strength of Windbound and exactly what we expected: the title is based on a misty and sparkling atmosphere that forces adventure. This aura, largely reinforced by a finely cut OST, clearly encourages rowing from island to island in the discovery of a potential legendary item, a monstrous sea creature (seen in the trailers) or divine voices fallen from the sky. A well-maintained mystery despite an almost absent narration, preferring to bet on personal interpretation than the lines of dialogue: the successful atmosphere of Windbound then comes to support a somewhat jagged gameplay and mechanics … and not always convincing . Before addressing the angry points, it seems necessary to recall why we often compare the title of 5 Lives Studios to The Legend of Zelda: first of all, its resolutely maritime concept, relying heavily on a boat clearly presented as your best friend, unquestionably evokes the grandiose The Wind Waker. Then come the strong echoes of Breath of the Wild, by the artistic direction then by the cogs of the craft and some specific features (like the Paravail, to name but one). Add to that a more pronounced survivalist spirit and you get precisely the formula of Windbound, unfortunately not always well mastered.
Take it for granted, but as it stands, we came out of this preview on our hunger.
In addition, let's add that our one-hour game session – half in Chapter 1 then the second in Chapter 4 with a much more advanced save – certainly does not honor the entire days of investment requested which, for their part, certainly allow to better understand the potential of the software. Take it for granted, but as it stands, we came out of this preview on our hunger. First of all because its gameplay, particularly summary, seems very quickly to reach its limits and does not lead to real satisfaction. The few fights with the wildlife turn out to be extremely rigid and simplistic, also served by an AI in the cabbages and not falling under any intensity, even when combining several weapons which, anyway, only offer one possible hit. each.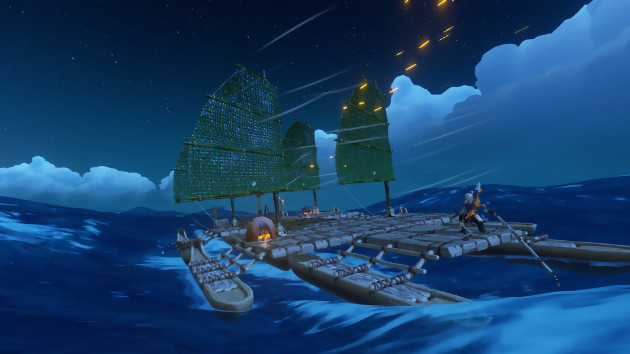 I HAVE BROUGHT OUT THE MAIN SAIL
The platform, for its part, also turns out to be a boat (it is the case to say it!), Offering very few exits during the phases of climbing where one will be satisfied simply to climb of rock. in rock, sometimes even automatically. Unfortunately, we did not have the time to build and try the Paravoile, which could certainly have energized certain passages, and several collision problems also arose during our journey. We are therefore very far from making our way as we see fit or thanks to our ingenuity, the level design of the islands not changing very much.
Once again, difficult to judge in an hour of play but their structure quickly turned out to be repetitive: we disembark, recover the resources on the ground or by facing a few animals, reach the top by climbing a few stones quietly to activate a blue halo which will serve as a benchmark (and also to remind us that this land is explored). That's about it and, unfortunately, there were no real surprises to report. It would have been nice to come across caves, abandoned cities or any crisp environment allowing to air the artistic direction and to reinforce these archaeological vibes. We will note all the same some variations, especially in terms of climate or flora, allowing you to vary certain bits of the map.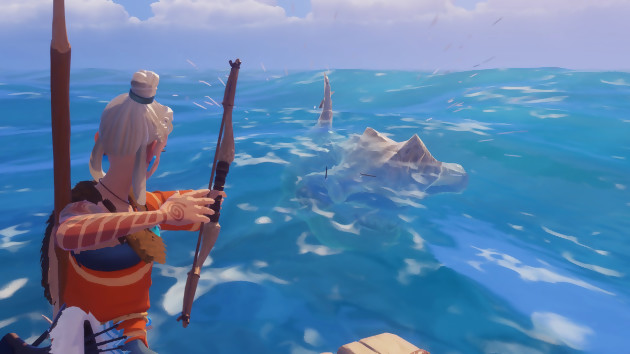 LONG LIVE THE WIND VARIOUS
We will then fall back on the mechanics of craft and survival which, once again, will not break a duck's three legs. On the other hand, we certainly do not ask the developers to revolutionize the genre: it is a fairly classic but effective system based on the collection of resources which, little by little, will make it possible to build an arc, then a basket, then a campfire or a rope which itself will be used to manufacture another specific item. We have to manage our inventory, use consumables before putrefaction (it is for example advisable to cook the recovered meats) to fill up, stay alive and go to the next island where animals will sometimes sit a little more massive and delivering more objects.
The emphasis is in particular on the boat which can take several forms: that of a simple straw boat, a raft or even a kind of catamaran on which it will be possible to store objects, concoct potions. or, of course, to fix a sail to move more quickly. Impossible to deny it, 5 Lives Studios has worked a lot on the navigation which will really depend on your type of ship or the so-called sail which, once installed, will offer a completely different movement with the wind. Likewise, the sea has its character, sometimes tranquil, sometimes raging and electric.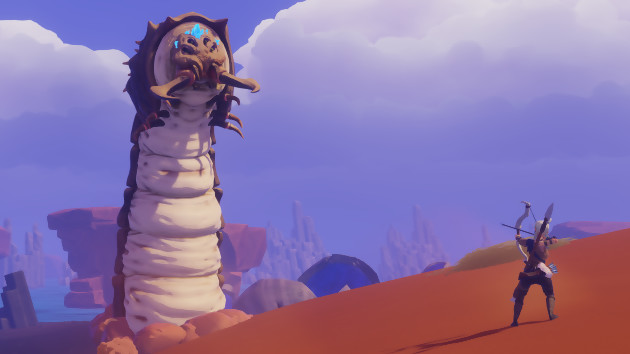 The feeling of braving storms is rather well transmitted, just like that of having legitimately toiled to explore a dark lost island seen in the distance, between two lightning bolts, without really knowing what there was to discover there. Undeniably, Windbound has an obvious poetic potential and the introductory speech from the Australians seems to promise that there will be a lot to see and do than what we were offered in the demo. As it stands, the game seemed to us a fairly classic experience in its foundations, sometimes even wobbly in its gameplay, and therefore quite far from the ode to travel that we expected. Nevertheless, we will wait to be able to fully immerse ourselves in his universe in order to explore its entrenchments before delivering a final verdict.