Don't call it Battlefield 6 anymore but Battlefield 2042! The next opus of the famous franchise signed EA and DICE is finally starting to reveal itself. If for the moment the communication of the game revolves mainly around one or two trailers, we were still entitled to a press presentation in due form, in the virtual company of five developers. Presented as "the new generation of Battlefield", Battlefield 2042 takes place in the relatively near future and offers us an experience centered on modern warfare (English speakers will therefore speak here of "modern warfare", follow our eyes …). This "futuristic but not too" context will allow us to control a whole bunch of new vehicles, weapons and gadgets, which will include tanks, helicopters and planes, but also a wingsuit and even, if we are to believe the trailer , modern tuk-tuks and canine robots. In order to justify the clashes, the Swedish studio has drawn almost the entire apocalyptic arsenal.
The scenario evokes an economic crash, global riots, food shortages, energy problems, lack of drinking water and the refugee crisis. This last point is the most important since it results in the creation of armed forces without a homeland. Former farmers, engineers, soldiers or ordinary civilians, some of these "No-Pats" decide to join the United States, while others choose to make an alliance with Russia, these two super-powers constituting the two playable camps. Despite this scriptural spread, Battlefield 2042 will curiously ignore any single player campaign, which may upset some players. As a compensation, it will be possible to enjoy several game modes in the company of bots led by artificial intelligence. But perhaps the real consolation prize comes from the maximum number of players, which has been pushed to 128! This promises us even more daunting battles and ever larger maps. Note, however, that this feature will be reserved for the PC, PS5 and Xbox Series X / S versions. The PS4 and the Xbox one will have to be satisfied with games at 64, the size of the maps then being reduced in proportion.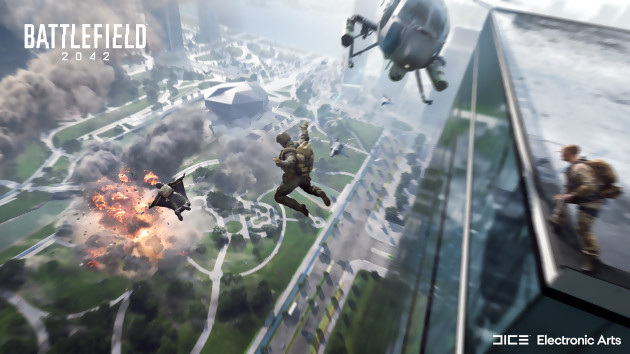 Devoid of a single player campaign, Battlefield 2042 will however offer three different "multi experiences", each of them bringing together several game modes. One of these three major segments is still completely unknown, since its name and concept will not be revealed. until July 22, during the EA Play Live event. We also know very little about the "Hazard Zone" segment since the only information released by the developers about it is the following: the experience will be oriented towards the game in squads, and it will not be a Battle Royal. It is therefore on the "All-Out Warfare" part that we have the most information to provide you. This section includes two modes well known to Battlefield players: Conquest and Breakthrough. The first requires capturing a maximum of objectives while the second opposes attackers and defenders, the former having to advance a front line as much as possible. At the launch of the game, these two modes will take advantage of seven completely new maps and so extensive that they will now be divided into different sectors. Each of these sectors will have to be conquered by capturing all of the objectives it houses.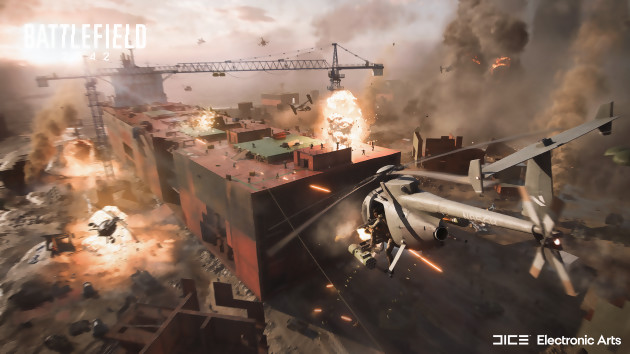 The Breakaway map located in Antarctica will for example be divided into several distinct combat zones (outlook, resource depot, oil platform, port, etc.). It must be said that the beast still measures 5.9 km² and turns out to be the largest in Battlefield 2042 … and therefore in the entire franchise. Hourglass is another gigantic map, whose atmosphere inevitably reminds us of Spec Ops: The Line. Located in the city of Doha (Qatar), the sets represent a modern city half engulfed in sand. Benefiting from a more distinct design, Renewal will take us to the heart of the Egyptian desert, near a center of high agricultural technology. Half of the map will therefore be lush while the other half will remain sandy. The Orbital map should also be very interesting, since it will take place in Kourou, French Guiana, and will revolve around a rocket launch likely to succeed or fail, which should have different consequences.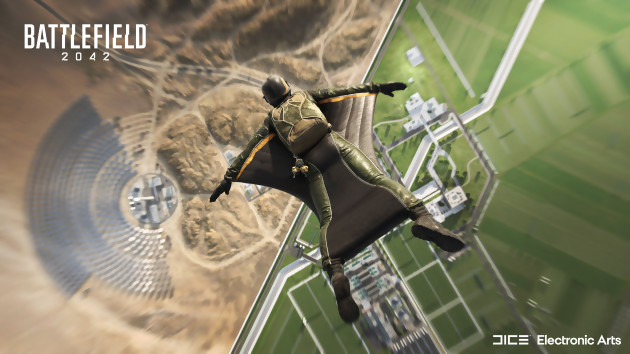 As for the other maps, which are called Kaleidoscope, Manifest and Discarded, they will take us to South Korea, Singapore and India respectively. Naturally, all these maps will take up the concept of "Levolution" introduced in Battlefield 4. Dynamic weather and environmental dangers are therefore likely to destroy certain environments, and even to significantly change the nature of the terrain. For example, we imagine that a failed rocket shot on the Orbital map could vitrify part of the ground. What is certain is that Battlefield 2042 will have a particular focus on tornadoes and sandstorms, both of which are capable of moving around and flying potentially deadly debris. More anecdotally, players can also influence the design of maps by closing doors, raising bridges, or even moving containers with a crane.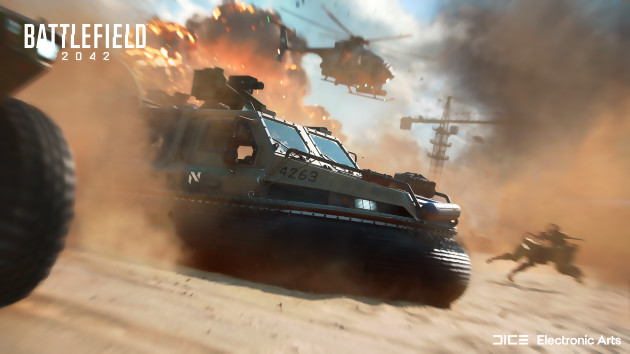 The next Battlefield will also abandon its usual class system to replace it with a set of Specialists, which more or less take over the concept of Rainbow Six Siege operators. Each Specialist will have a unique Trait and Specialty, but all will be able to use all of the game's classic weapons and gadgets. Ten Specialists will be available at launch, with the wingsuit apparently being reserved for one of them. For the moment, four of these adventurers have been presented to us. The German Maria Falck, of support type, can use an "S21 Syrette Pistol" to get back on her feet and heal her allies from a distance. It also has the particularity of restoring all their health to the soldiers it relieves. The Russian Pyotr "Boris" Guskovsky, an engineer type, can deploy an automatic turret, the efficiency of which is increased tenfold if he stays nearby. The Canadian Assault-type Webster MacKay can create paths with his grappling hook and benefits from increased agility. Finally, the South African Wikus "Casper" Van Daele, of the recon type, has a drone that can reveal the position of enemies, as well as a motion detector that displays on its screen an alert when an opponent is get a little too close to him (perfect for camper snipers!).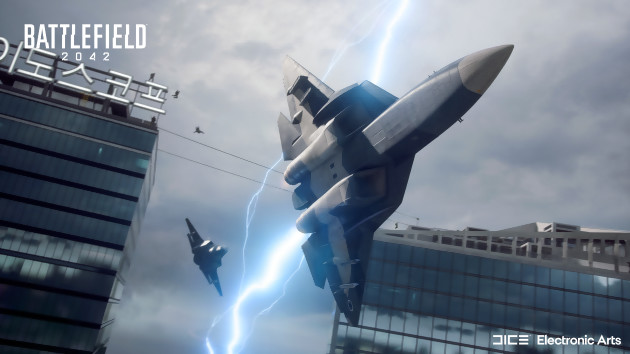 Do you want even more novelties? No problem, the developers of DICE have announced the presence of a tablet to instantly control any vehicle, from any location. A priori, it would even be possible to drop a tank on an enemy to kill two birds with one stone. In addition, the cooperative aspect of vehicles has apparently been strengthened. We are promised that each siege will have its importance (anti-air, shells, deposit of mines …). So the more players there are inside the same vehicle, the higher the potential of the latter will be. Battlefield 2042 will also feature a new weapon customization system, dubbed System Plus in reference to its cross-shaped interface. It will make it possible to change the attributes of our weapons (type of ammunition, scope, barrel, fixing under the barrel) in real time and at any time, in order to be able to quickly adapt to different situations.